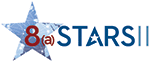 8(a) STARS II
Contract No: GS06F0675Z
DUNS No: 01-4981224
CWest Contact: Joel Merriman, (402) 393-8059, jmerriman@constellationwest.com
CWest E-mail: STARSII@constellationwest.com
GSA 8(a) STARS website: www.gsa.gov/8astars2
GSA 8(a) STARS II, a small business set-aside GWAC, provides flexible access to customized IT solutions from a large, diverse pool of 8(a) industry partners. 8(a) STARS II allows for long-term planning of large-scale program requirements while strengthening opportunities for 8(a) small businesses.8(a) STARS II allows directed task order awards for orders under $4 million, including options. Orders more than $4 million must be competed among the industry partners in your chosen constellation and functional area. Government clients can order IT services under this multiple award, indefinite delivery, indefinite quantity contracting vehicle by means of task orders with specifically defined requirements, deliverable products, and schedules. Task orders up to $4 million may be awarded by federal civilian agencies and Department of Defense activities on a sole-source basis, based upon self-marketing or past performance. Supplies and services furnished under this contract can be ordered through GSA Form 300, Standard Form 1449, or DD Form 1155. Benefits of STARS include its availability and access, short procurement lead time, and the fact that hardware and software solutions can be procured together as part of an integrated solution.8(a) STARS II industry partners are classified in two constellations based on industry accreditation. Constellation I industry partners were determined to be technically proficient with competitive pricing, while Constellation II industry partners were determined to be technically proficient with competitive pricing, and also possessed a minimum of one specified industry credential identified below:
1. Capabilities Maturity Model Integration (CMMI) Level II or above, in Services or Development, or
2. International Standards Organization (ISO) 9001:2000, or
3. ISO 9001:2008
Constellation West provides IT services in both constellations across all four functional areas:
Custom Computer Programming Services
Computer Systems Design Services
Computer Facilities Management Services
Other Computer Related Services
8(a) STARS II offers fixed price, time and materials, labor hour, and blended task order types, providing greater flexibility in procuring different types of IT products and services and meeting your mission requirements. There is also a low 0.75% contract access fee.
When ordering from Constellation West, agencies get full credit for every dollar spent as 8(a), SDB, SDVOSB, SB and WOSB/8(m). It is rare to get this much credit from one vendor in addition to top notch services that fulfill mission requirements.
For more information, visit: www.gsa.gov/8astars2
GSA 8(a) Contacts
Misty Dunnington
Contract Specialist
Phone: (816) 823-3346
Fax: (816) 823-1608
Email: misty.dunnington@gsa.gov
Address:
1500 E Bannister Rd
Kansas City , Mo 64131-3009
Howard Innis
Contracting Officer
Phone: (816) 823-4658
Fax: (816) 823-1608
Email: howard.innis@gsa.gov
Address:
1500 E Bannister Rd
Kansas City , Mo 64131-3009